Welcome! With your customer having made the switch to utilizing the Transcepta solution for their Accounts Payable (AP) processing, you will receive an email prompting you to register to Transcepta as a supplier. This email contains a registration link that will lead you to a connection page similar to the one shown below: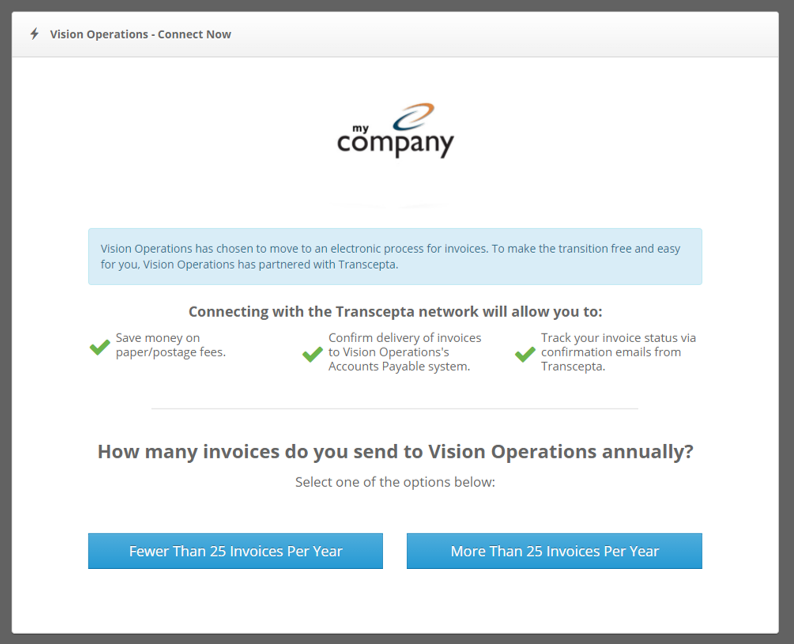 Here, you will select the appropriate invoice (or other AP document) volume that your organization sends to the customer annually. These options will both ultimately lead to a registration form, where you will enter your company's information including the company name, address, and contact information, as well as create a user login for the Transcepta Supplier Portal (any bolded values are required information). Here, you can also select the preferred currency for your organization's invoicing needs. Any currency can be selected at registration. Once this information has been entered, you will be led to a "Connection Summary" page affirming your activated registration and welcoming you to the Transcepta Community. After this, you may use the user login information that you created to access the Supplier Portal.
After completing registration, you will receive further email correspondence from the Transcepta team containing additional instructions and next steps for submitting documents.
Am I set up already with Transcepta?
If you are unsure whether your organization has a pre-existing account through Transcepta, you can contact our support team using the link provided at the bottom of this page.
Can my customer register for me?
No, suppliers are required to create their own Transcepta account.
Is the connection site secure?
Yes, Transcepta is SOC 1 and SOC 2 certified, ensuring that your information will be secure.
Do I need to submit a sample document to Transcepta?
If you select the Supplier Portal as your submission method, you will not need to submit a sample document. For suppliers choosing to submit through email, Virtual Printer, or EDI, click here to learn more about the sample submission process.
Questions about registering your account?